Tony Cowell claims Simon Cowell University
is the BEST Simon Cowell website!
We have learned that Tony's newest book, "I Don't Mean To Be Rude, But...The Simon Cowell Book of Nasty Comments", contains an entire section dedicated to Simon Cowell University. Several winning essays are included. Check the Dean's List to see if your essay was included!
There is also a second chapter about
Simon Cowell Memorial Hospital
, including a few word-for-word passages. Unfortunately Mr. Cowell seems to have forgotten where he read them, but we suppose a writing team can't have
EVERYTHING
.
Again, an extra special thank you to Tony Cowell for including our site(s).
Now...how about dinner? We'll even let you buy.
SCU has been mentioned in several publications, as well as on Pop Idol and The X Factor!
Below are just a few...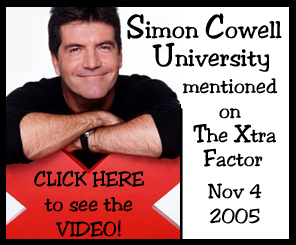 OK, this isn't REALLY a publication....
....but, Simon actually SIGNED an SCU diploma!
We would like to personally thank our good friend, Jo, for obtaining this autograph for us in person at Simon's book signing in NYC in December of 2003.
When she asked if Simon knew about our fine University, he replied, "yes...I've heard about it", then graciously signed the diploma.
What a guy!!
---
---
Click
HERE
to see a picture of Kate Thorton from Pop Idol, discussing the Heat magazine article with some of the Pop Idol 2 finalists,
ON THE SHOW
!!
---
---
---
---
---
---
Most recently, a link to SCU appeared on the official
VH-1 website for Simon's episode of The Fabulous Life Of...
We didn't get mentioned on the show...but we'll
take the link!